**EXCEPTIONAL PRODUCT ALERT**
STRAIN: Moby Dick
LINEAGE: Sativa Dominant White Widow x  Haze
PRODUCER: 1937 – Vireo
         click HERE to visit the 1937 website
         click HERE to see Vireo's press release announcing the 1937 BRAND
MEDIUM: Clean Pressed Rosin (solvent-less)
AROMA: Pine mixed with a note of vanilla
TASTE: Pine with strong notes of hash flavor upon exhale
MIND: uplifting, energizing, promotes free associative thinking and creative inspiration bolstered by a noticeable but unimposing indica physical sensations
BODY:  This offers a on-drowsy body high which settles in after the sativa peaks.  You may experience some dry eyes and mouth, some ocular pressure, and an overall relaxed sensation.  Just like hash, the rosin leaves you where it found you after the initial and more intense effects diminish.
CONCLUSION:
This is a superb product from this new company and I can't wait to try more of their products.  1937's  solvent-less Rosin concentrate is a finer, top shelf extraction of the highest order.
Their version of the Moby Dick strain can send you into mental orbit but then gently brings your body back down to earth right where it found you….Their version of the Moby Dick was emblematic of the strains characteristics.
 NOTE: this strain definitely increased my appetite once the indica kicked in. I did experience some dryness in my eyes and mouth.
I can see how, in high doses, depending on the user and their tolerance level,  over doing it with this strain could lead to sensations of paranoia, dizziness, and anxiety.
But, I say this mostly to remind the reader that this is a high potency concentrate product. And, depending on the user and the method of ingestion, a little can go a long way as they say.
WHAT IS ROSIN? CLICK HERE
IF YOU WANNA READ MORE ABOUT WHAT I THOUGHT OF THIS PRODUCT AND ALSO MORE ABOUT 1937 CLICK HEREeart
WHAT'S INSIDE 1937's MOBY DICK ROSIN?
Moby Dick 1935 CBD: nd CBDA: nd CBN: nd THC: 17mg THCA: 371.5mg CBG: 5.5g CBGA: 25mg THCV: 1.5mg a-Pinene: 1.3mg b-Pinene: 1.35mg Myrcene: 0.95mg Limonene: 1.0mg Ocimene: 0.7mg Terpinolene: 2.2mg Linalool: 0.55mg b-Caryophyllene: 2.35mg a-Humulene: 0.9mg trans-Nerolidol: 0.6mg Caryophyllene Oxide: nd Eudesmol: 1.25%
Moby Dick's effects are very psychoactive in part due to typically higher levels of tetrahydrocannabivarin (THCV). This gives the user a sensation of euphoria and an almost psychedelic-type disassociation experience when ingested in higher doses. 
The stronger cerebral effects, such as focused creativity and inspired thought, may only last an hour and a half.  However, the body effects linger on in a most pleasant way.
Moby Dick was designed  for medicinal applications and it has been said that in higher doses it is possible that some anxiety, dry mouth, and maybe some dizziness may occur so medicate with this in mind.
WHAT IS ROSIN and HOW IS IT MADE
Well, in short, as explained at thegrowthop.com (CLICK HERE):
Rosin is a cannabis concentrate made through extracting THC from fine hash while using a combination of heat and pressure.
Rosin differs from other concentrates because no solvents are used during the extractions process. 
Rosin is also differentiated from other concentrate products by its high cannabinoid and terpene concentration.  However the the most important differentiating factor is its overall purity when compared to other concentrates.  
1937's ROSIN IS AN EXCEPTIONAL SOLVENT-LESS CONCENTRATE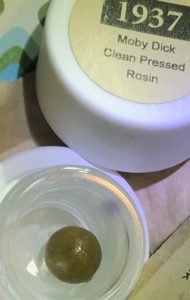 This particular rosin, by 1937, is exquisite. Whoever is performing the extraction of this stuff is an artist. 
With Moby Dick they have rendered an extremely potent representation of the strain without using any solvents, chemicals, or anything other than basically the flower itself.
While most Rosin is made using dry flower, 1937 uses dry sift, full spectrum, with just the right amount of microns which provide lipids/fates/waxes for the consistency of the Rosin.
The fact that this product is rendered in such a natural process is a reassuring and refreshing notion in the face of so many synthetic chemically altered products on the market like vaping cartridges.  
1937 GETS BACK TO BASICS at the OLD SCHOOL
I happen to relish the notion of performing activities and enjoying pastimes with a certain authenticity…staying true to the elemental foundations of things.  I'm also sort of a history buff.
I just tend to like "old stuff".  1937 offers Maryland MMCC card holders a way to engage with the history of something as elemental as hash.  And, with the help of modern technology, they are able to enjoy it at a higher level and without any potentially harmful synthetic additives. 
I use the term modern technology in a VERY limited sense here.
THE LONG WAY HOME ( MY TAKE)
This is one of the finest concentrate products I've ever medicated with. It was a very smooth smoke that resembled hash.  The taste was mild but sweet AND sour at the end with just a hint of , again, hash. 
The packaging is very sparse with implied technical or medicinal importance to its retro graphics. The earth tones, the rough hewn packaging (hemp?) and the name itself "1937" evoke a nostalgic, classic, feel.
The inner container, housing the rosin, is a solid opaque flat white colored ceramic (?) concentrate box with a glass bowl interior more typical of the industry.
The material itself, is a dense, greenish-dark brown ball.
Ahh memories of encountering hash delivered in a ball came flooding back…sometimes it was a rectangle, but sometimes a ball..just like this.  It had a very enticing aroma: earthy, piney, with a hint of vanilla.  It is a very stable material and seemed to be holding its constitution through its long exposure to the air while I inspected its beauty.
THE CLEAN PRESSED ROSIN IS VERY WORKABLE ON TOP OF FLOWER
I found that the best way for me to enjoy this medication was to add it on top of a bowl of flower.  As long as you intermittently exposed it to the flame of a lighter it will bubble and coat the flower making for a delectable session.
This is just an exceptional product that I will most certainly purchase again.  I highly recommend you do the same.
I was immediately taken with the subtle almost sublime aroma of vanilla and pine…just enough to nostalgically transport me back in time…maybe somewhere near the California desert…or a warm summer night in a Grateful Dead show parking lot?…
The smoke was rich and it had a very nice extended burn, ESPECIALLY, at lower heat on flower and in my dabbing rig.  I would say to get the most out of a match head sized dose I waited until the rig stopped glowing red and beyond…maybe a total of 35 seconds…a little longer than I normally would.  From one dose, I was able to get 3 very nice pulls. On the flower (as stated above) intermittent exposure to a lighter flame will do wonders to the flower underneath.
The rush of this strain is amplified by it being in Rosin form.  It was a very intense, cerebral high with an out of this world nostalgic taste. I felt immediately energized and inspired. Eventually the Indica side of the experience kicked in and was kept afloat by waves of calm delight from the Sativa.