STRAIN: BLACKBERRY
GROWER: Harvest
LINEAGE: Black Domina x Raspberry Cough
VISUAL: The buds were very chunky, meaty, and dense.  The colors spanned from a rich dark and light green to a dark purple, blackberry looking hue on some of the outer bract leaves.

AROMA: This strain has an earthy, spicy, with a hint of chocolate like scent -over all a deep hash-like aroma.  This strain has a very rich hash-like aroma mixed with berries and a spicy earthiness. So, It is very dank smelling.
TASTE:  When you inhale and exhale a myriad of flavors and olfactory sensations are evident.  This is a hearty strain with an pungent, earthy, and  multi-tiered flavor and aroma.
MIND:
energized
uplifted
happy
euphoric

BODY: 
relaxed but not sedated
calm but not tired
some dry mouth
mild eye pressure
WHAT'S INSIDE
NOTE: the following list is usually on the label and normally I provide a photo whenever possible.  However, my label, which was placed upside down (see above), did not have the data listed.  Therefore I had to include the list that is provided by Nature's Medicine's website.  I hate to complain about the label, but I think this is kinda careless, especially since they were not busy. Because it is not the first time that the label on my medication is, well, almost destroyed or factually inaccurate, I thought it relevant to mention.  Maybe this is because Nature's Medicine is a larger chain, I'm not sure.
CBD: no data
CBDA: 0.10%
THC: 0.38%
THCA: 31.49%
CBG: 0.25%
CBGA: 0.76%
CBC: 0.01%
a-Pinene: 0.04%
b-Pinene: 0.08%
Myrcene: 0.39%
Limonene: 0.46%
Ocimene: no data
Terpinolene: 0.01%
Linalool: 0.10%
b-Caryophyllene: 0.45%
a-Humulene: 0.12%
a-Bisabolol: 0.02%
Camphene: 0.01%
Nerolidol: 0.06%
Camphene: 0.01%
GLeaf's Blackberry is, in my opinion, one of the BEST
 GLeaf's Blackberry is, in my opinion, one of the best strains the gLeaf has created and presented to the patient population of Maryland. The buds are dense, hard, bushy, little monsters packed full of trichomes and terpenes.
The stain is a perfect blend of uplifting and relaxing effects.  I have only recently tried it, but i has quickly become one of my personal favorites.  It suits a busy schedule (in small doses mind you) and an evening downtime session equally as well.
I purchased an 1/8 oz from Nature's Medicines in Ellicott City, MD.  This is not a lightweight strain and is rated by Nature's Medicines as a top-tier THC potent strain, an "A+" on the label.  On their website, gLeaf has it labeled a "Grade A Flower" and Grade A it is.
One thing I noticed is that the body high seemed to present itself first.  The feeling comes on fast and by the time I had cleared the first bowl I was already under its spell.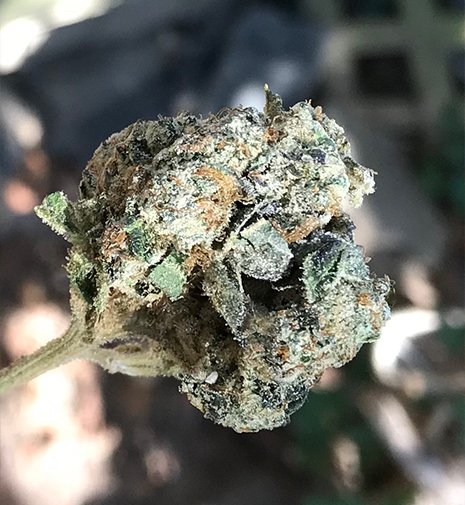 RELAXING AND ENERGIZING THE PERFECT STRAIN
I did feel a little drifting sensation when I closed my eyes.  But, I wouldn't call it dizziness.  In fact, it is very pleasant.  But, I can see how, smoking a little too much could make some patients very dizzy.
The Blackberry strain presents itself initially as a heavy indica strain.  Overall, the aroma is dank, it tastes like hash, and the physical effects are what I felt first.
However, this strain is very mentally stimulating.  I was immediately inspired to begin an activity which requires a fair degree of focus and the Blackberry just seemed to ride along and propel me forward.
CONCLUSION

:

So, your body is relaxed, your mind is calm, therefore your thoughts are unencumbered by any anxiousness or stress.

Blackberry seems like it would be a fantastic strain ingest while fly fishing, or model construction, and/or any other activity that would require you to be static physically but fully engaged mentally.

This strain would be perfect for Fly fishing, playing music, a game of chess, tying flies, etc.  for instance.